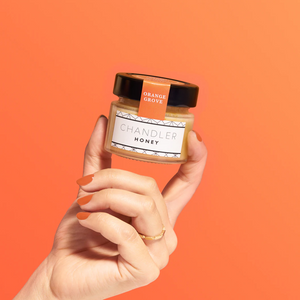 Chandler Honey is 100% Canadian, raw, unpasteurized Honey infused with natural ingredients. Sourced from their family farm in the prairies of Alberta. Honey from the prairies is very dry and creamy, which allows ingredients to be added to the honey without needing any preservatives. 

Orange Grove is a refreshing and invigorating blend of clementine, navel, and blood orange zest infused into creamy white prairie honey. 
Spread on toast, add to tea or coffee, on charcuterie boards, cocktails, baking and more.
140g glass jar. shelf life 5 years (and beyond!)